We thank Mr. Akhilesh Chipli for writing about Olive Ridley Sea Turtles at Tonka, Honavar in Prajavani Kannada Newspaper.
However we would like to make a corrective statement. It is mentioned as "ಕೆಲವು ದಿನಗಳ ಹಿಂದೆ ಸ್ಥಳೀಯ ಮೀನುಗಾರರು, ಹೊನ್ನಾವರ ಫೌಂಡೇಷನ್ ಮತ್ತು ಬೆಂಗಳೂರಿನ ವೃಕ್ಷ ಸಂಸ್ಥೆಯ ಪದಾಧಿಕಾರಿಗಳು ಟೊಂಕಾ ಬೀಚ್‌ಗೆ ತೆರಳಿ, ಆಮೆಗಳು ಮರಿಯಾಗುತ್ತಿರುವುದನ್ನು ಗಮನಿಸಿ, ಒತ್ತಾಯಪೂರ್ವಕವಾಗಿ ಅರಣ್ಯ ಇಲಾಖೆಯ ಸಹಕಾರವನ್ನು ಪಡೆದು ನೂರಾರು ಆಮೆ ಮರಿಗಳನ್ನು ಸಮುದ್ರಕ್ಕೆ ಬಿಡುವ ಪ್ರಯತ್ನದಲ್ಲಿ ಯಶಸ್ವಿಯಾದರು"
From Honavar Foundation, we would like to clarify that Forest Department officials were there voluntarily and they were co-operative. The word "ಒತ್ತಾಯಪೂರ್ವಕವಾಗಿ" in the article is in-appropriate and was not stated by us. We request you to read it as "ಕೆಲವು ದಿನಗಳ ಹಿಂದೆ ಸ್ಥಳೀಯ ಸ್ಥಳೀಯ ಮೀನುಗಾರರು, ಹೊನ್ನಾವರ ಫೌಂಡೇಷನ್ ಎಂಬ ಸರ್ಕಾರೇತರ ಸಂಸ್ಥೆ, ಬೆಂಗಳೂರಿನ ವೃಕ್ಷ ಸಂಸ್ಥೆಯ ಪದಾಧಿಕಾರಿಗಳು ಟೊಂಕಾ ಬೀಚಿಗೆ ತೆರಳಿ, ಆಮೆಗಳು ಮರಿಯಾಗುತ್ತಿರುವುದನ್ನು ಗಮನಿಸಿ, ಅರಣ್ಯ ಇಲಾಖೆಯ ಸಹಕಾರವನ್ನು ಪಡೆದು ನೂರಾರು ಆಮೆ ಮರಿಗಳನ್ನು ಸಮುದ್ರಕ್ಕೆ ಬಿಡುವ ಪ್ರಯತ್ನದಲ್ಲಿ ಯಶಸ್ವಿಯಾಗಿದ್ದಾರೆ.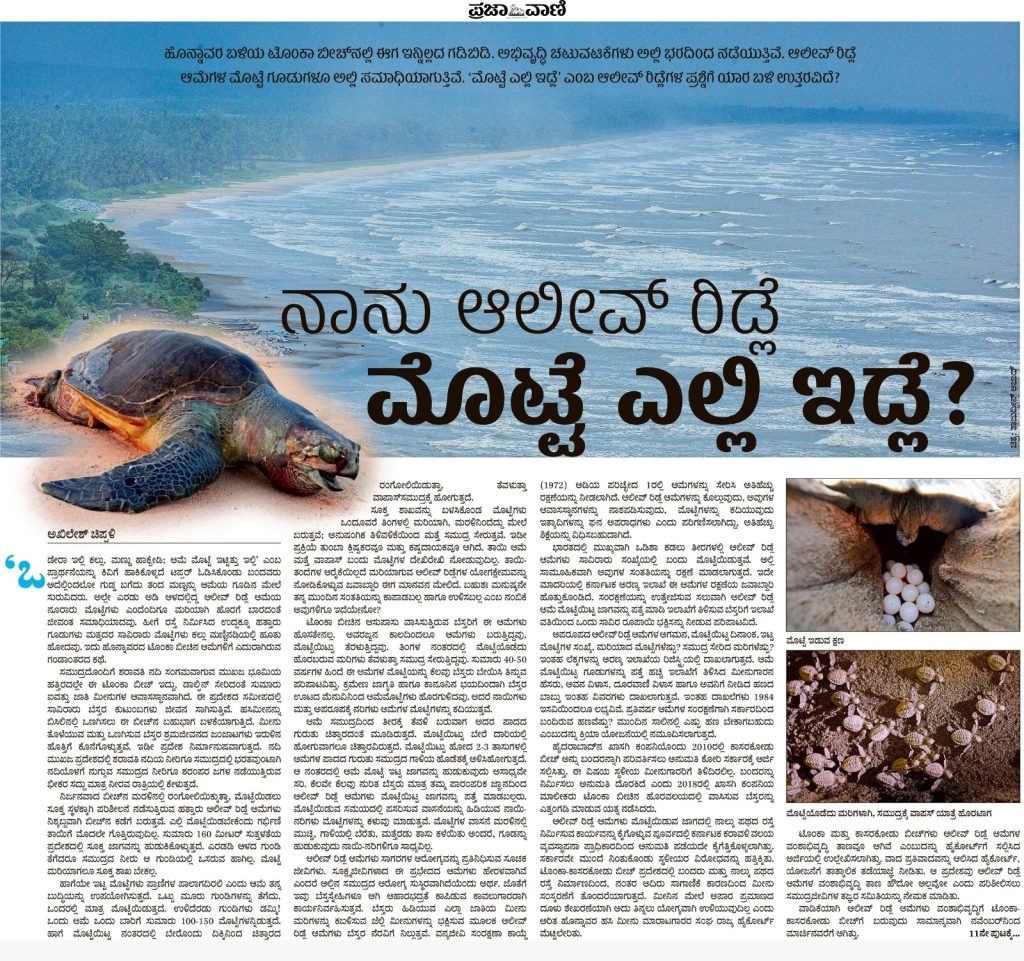 You can read online at https://www.prajavani.net/environment/animal-world/olive-ridley-turtle-in-endanger-stage-1016549.html