Honavar, Karnataka – In a heartwarming moment, the first Olive Ridley hatchlings of the season were successfully released into the sea at Tonka Beach near Honavar on Friday, 10th February 2023. This marks the start of the yearly turtle nesting and hatching cycle in the Honavar region.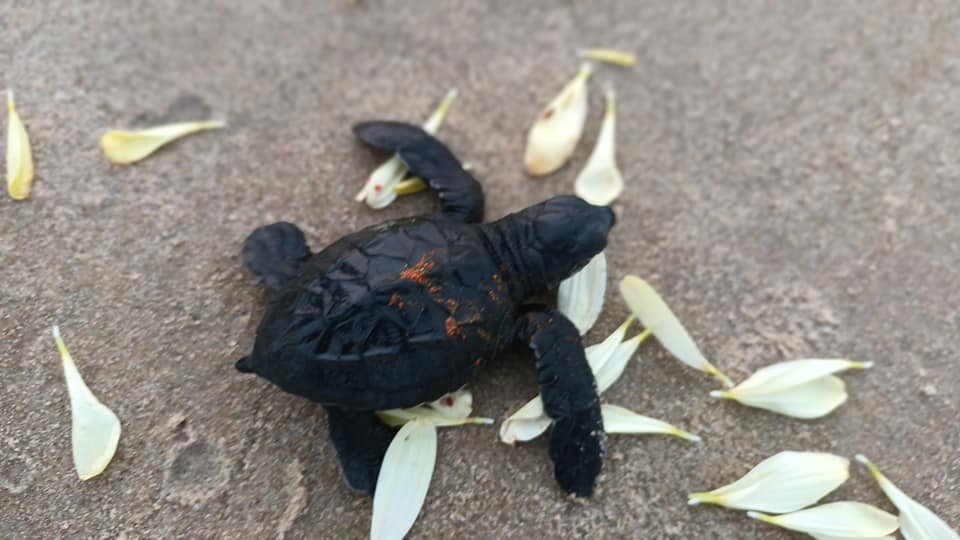 The hatchlings, who were protected and cared for by the local fishermen led by Rajesh Tandel and Ramesh Tandel, were released at the famous nesting beach at Tonka of Honavar where a lot of Olive Ridley turtles come to lay their eggs every year.
"It's a moment of great joy for us to see these little hatchlings return to the sea after months of protection and care," said Sandeep Hegde, Trustee of Honavar Foundation. This event is a testament to the collaboration between the government, local communities, and wildlife enthusiasts in preserving this endangered species.
Olive Ridley turtles are a vulnerable species, and their conservation is crucial for maintaining the delicate balance of marine ecosystems. The release of these hatchlings is a step towards a brighter future for the species and the ocean they call home.
The release event had a shine with presence by India's first tree doctor Vijay Nishant who was thrilled to be a part of this momentous occasion. On his facebook post Vijay Nishant said it's a miracle thing this morning. We in India consider this species as one of avatar. What can I say in this season first time this baby turtles are released at Tonka Honnavara beach with Karnataka Forest Department and local fishermen. This is reason I traveled Honnavara and as conservationist one of my happiest day.
The olive ridley sea turtle (Lepidochelys olivacea), also known commonly as the Pacific ridley sea turtle, is a species of turtle in the family Cheloniidae. The species is the second-smallest] and most abundant of all sea turtles found in the world.
This turtle and the related Kemp's ridley turtle are best known for their unique synchronised mass nestings called arribadas where thousands of females come together on the same beach to lay eggs.
The forest department, along with the support of local fishermen, will continue to monitor the progress of these hatchlings and take necessary measures to ensure their survival.
This event serves as a reminder of the importance of protecting our planet's wildlife and the role that each one of us can play in making a difference.